Time: 9:00 am
I went to nap at around 5, when I got too sleepy to read. I woke up to do my last book, and decided that I want to be able to finish one book cover to cover at least, so I picked Nzingha, a children's book about a warrior queen in Angola.
Not a lot of pages read this time around, but I had the most fun with mini challenges this year.
Time: 1:00 am
More than 12 hours later. Been to work and back, managed to listen to The Girl with No Shadow (aka the Girl with Lollipop Shoes), the sequel to Chocolat, while commuting. And a little bit of reading during lunch time. Now, I'm all set to do some serious reading! Well, couldn't resist first some fun with mini-challenges. To me that's the best part of read-a-thon!
Time: 11:30 am
I am so glad that I can participate this time, as it's Dewey's 10th Anniversary! I wish I could say that I was here since the very first one, but all I say is every time I participated it was a lot of fun. Last year I couldn't due to travels, but even though I have to work later today, I am reading what I can.
Set my alarm to ring at 7:30am, but didn't roll out of bed till it's 8, haha, as my plan to sleep early last night didn't work well. In all honesty it had been a rather shitty time lately. There was hurricane Irma, my dear parrotlet passed away, and I am in my 3rd round of cold in a month. Really, I think I have snotted out half my brain at this point. And it feels like it, most of the time I was in a zombie mode. Not working out much doesn't help either, but I don't have enough energy for the gym, and I find out during downward dogs that gravity is bad for running noses.
Anyway, here I am. Finished the little bit of the book I'm on, and started my second.
Opening Meme
1) What fine part of the world are you reading from today?
Sunshine state of Florida, as usual.
2) Which book in your stack are you most looking forward to?
All Things Good by Sarah Turnbull, about her time in Tahiti.
3) Which snack are you most looking forward to?
Mochi! Got three boxes of them from Costco last month.
4) Tell us a little something about yourself!
Love reading since I was a child. Mom said I was such a easy child to raise, just give me a book and I'll stay quiet for hours. And apparently I slept so soundly as a baby my dad had to wake me up just to be sure I wasn't dead.
5) If you participated in the last read-a-thon, what's one thing you'll do different today?
Well, I started using Instagram, so I'll be posting more there and on twitter instead of on my blog.
Total Pages read so far: 513
Plain Secrets pgs 136-202 (67)
The Tale of Kieu pgs 1-24 (24)
The Girl with No Shadow pgs 1-107 (108)
The Wives of Henry Oades pgs 230-363 (134)
All Good Things pgs 1-44 (45)
Nzingha pgs 1-133 (134)
Total Time spent reading so far: 6 hr
Mini-challenges I've entered:
Opening Meme
Traveler's Log
Book and a Beverage
Time Flies

Really love this one, totally brilliant idea. It took me a while to figure out the covers. I would love to make my own clock but as my reading time is scant already I don't have time to go hunting around for them.
1. First Frost
2. Two From the Heart
3. The Three Musketeers
4. Four Weeks, Five People
5. Fives and Twenty-Fives
6. Six Impossible Things
7. The Seventh Function of Language
8. Orphan #8
9. Sweetness #9
10. The Woman in Cabin #10
11. 11/22/63
12. The Twelve Lives of Samuel Hawley
Mr. Penumbra's 24-Hour Bookstore
Reading Buddy
Which of course is my dear Walle, who just passed away less than 2 weeks ago, after 9 years with us.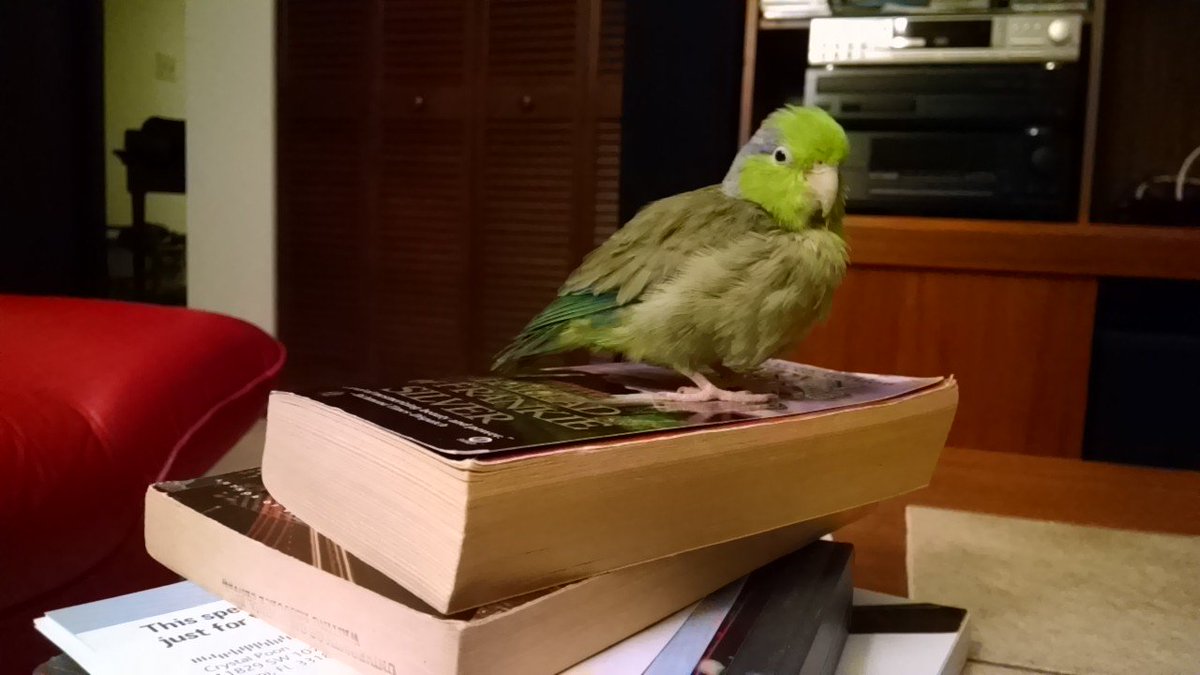 Books I have finished:

Other Readers I have visited: